DXIHub was Established
as extended from
the CIO's Innovation Team
Interdisciplinary Internship
Positions
Innovation initiatives
such as AI, Cloud Computing,
Extended Reality, Smart Campus and
Robotics Automation
13+ Awarded project
grants and Student Success
program supports (~ 09/2021 )
Established in Jan 2019, the Hub of Digital Transformation and Innovation (DXIHub) at Technology Services has become one of the largest interdisciplinary internship programs in Technology for Fresno State students. DXIHub has established strategic partnerships with industry and local communities to support and enrich experiential learning for students with technology innovation.
Aligned with the university's core mission to boldly educate and empower students for success, the Hub of Digital Transformation and Innovation (DXIHub) at Fresno State strives to inspire students to apply their education toward developing innovative solutions to real-world problems using the best and latest technologies to ensure that Fresno State and community partners throughout the Central Valley can perform at the highest level. It supports Fresno State's mission to boldly educate and empower students for success by providing innovative tools and technologies that support opportunities for students to lead projects and work collaboratively.
DXIHub interns come from across campus and a variety of majors including Computer Science, Marketing, Industrial Technology, Marketing, Communications and Journalism (MCJ), Graphic Design, Computer Engineering, Business, Information Systems, Accounting, Agricultural Business-Economics, and Mathematics.
We are Accelerating technology and innovation
for
Student Success
The Hub of Digital Transformation and Innovation (DXIHUB) seeks to generate innovative, actionable technology solutions to address the most pressing challenges for Fresno State and the Central Valley Education community.
The DXIHub fosters student success through internships for students interested in exploring emerging technology at the university and in the Digital Innovation and Solution Center. Each student intern receives the opportunity to work on technology-empowered projects in an interdisciplinary group setting utilizing cutting-edge technology to solve real-life issues. The Digital Innovation and Solutions Center on Fresno State's campus offers technology, equipment and other resources associated with developing and building projects within the center. Students are encouraged to explore, innovate and create with emerging technologies to enhance their learning experience and receive opportunities to work side-by-side with technology companies in the region, Silicon Valley and beyond.
The DXIHub also provides professional development and real-world experiential learning opportunities for students through rotational innovation consultant opportunities where Technology Services staff and faculty work collaboratively with students as professional mentors. Mentorship focuses on the creation of sustainable and innovative solutions to real challenges and situations in the community and across campus, such as existing needs presented by administrative and academic areas at Fresno State. The incumbents will assess and help discover ways to implement practical solutions for real clients. Additionally, students will represent the University at regional, state, and national meetings and conferences to showcase innovative technology advances.
Innovation Communities of Practices are enhanced through the DXIHub which plays a vital role in supporting innovation efforts and connecting student innovators across Fresno State and the local community. The DXIHub enables the development and diffusion of new and effective strategies and technology to promote better student outcomes, improve the student experience, and create greater efficiencies through three focus areas:
Accelerating innovation with programs and collaborative projects
Fostering a culture of innovation through community activities
Exploring emerging technology areas
A few things we're excited for
COMING IN FALL
Proactive communication | Face-to-face Immersive virtual engagement | Follow-up and Accessibility
Collaboration of ASI and DXI for Technology Innovation Amid Pandemic
EMERGING TECHNOLOGIES & INNOVATIVE PRACTICES
FOR STUDENT SUCCESS
Fresno State showcased the Cal State Ready Alexa skill at the 2019 Central Valley High School Counselor Conference on Wednesday, Sept. 25.
AI/MACHINE LEARNING EDUCATION APPLICATIONS
DASH

Digital Agriculture Solution Center
Digital Agriculture Solution Hub (DASH) is a digital platform that facilitates multidisciplinary experiential learning, fosters industry partnerships, and drives entrepreneurship among students, researchers, growers and AgTech suppliers/incubators in the Central Valley.
AI/MACHINE LEARNING EDUCATION APPLICATIONS
Immersive and augmented technology has been a continuous effort of Technology Services to provide an enhanced digital experience for student engagement. COVID-19 made the urgency to deploy new innovative digital solutions necessary in order to support student success.
XR (AR, VR, MR, HAPTIC) TECHNOLOGIES
Blockchain Powered Micro-credentials and Digital Badges
A look at how Arizona State, Fresno State are using blockchain
Universities discussed their approaches to digital ledgers at Educause, highlighting opportunities and challenges for broader adoption in higher ed.
ADAPTIVE LEARNING TECHNOLOGIES
Fresno State builds an autonomous Bulldog Bot with AWS RoboMaker
During Homecoming 2019, the California State University, Fresno (Fresno State) Hub of Digital Transformation showcased the Bulldog Bot – a robotic take on the school mascot – built with Amazon Web Services (AWS) RoboMaker and AWS artificial intelligence (AI) services. The interactive Bulldog Bot engaged fans across campus by telling jokes, playing karaoke, and answering Fresno State homecoming trivia questions.
ELEVATION OF INSTRUCTIONAL DESIGN, LEARNING ENGINEERING, AND UX DESIGN
"This AWS IoT Buttons pilot opportunity will allow us to explore new mechanisms to creatively improve the current campus technology support service as well as prepare the campus to be ready for thousands of IoT smart devices in near future."
Currently there are 100+ Fresno State IoT Smart Buttons deployed on campus and in the libray.
ELEVATION OF INSTRUCTIONAL DESIGN, LEARNING ENGINEERING, AND UX DESIGN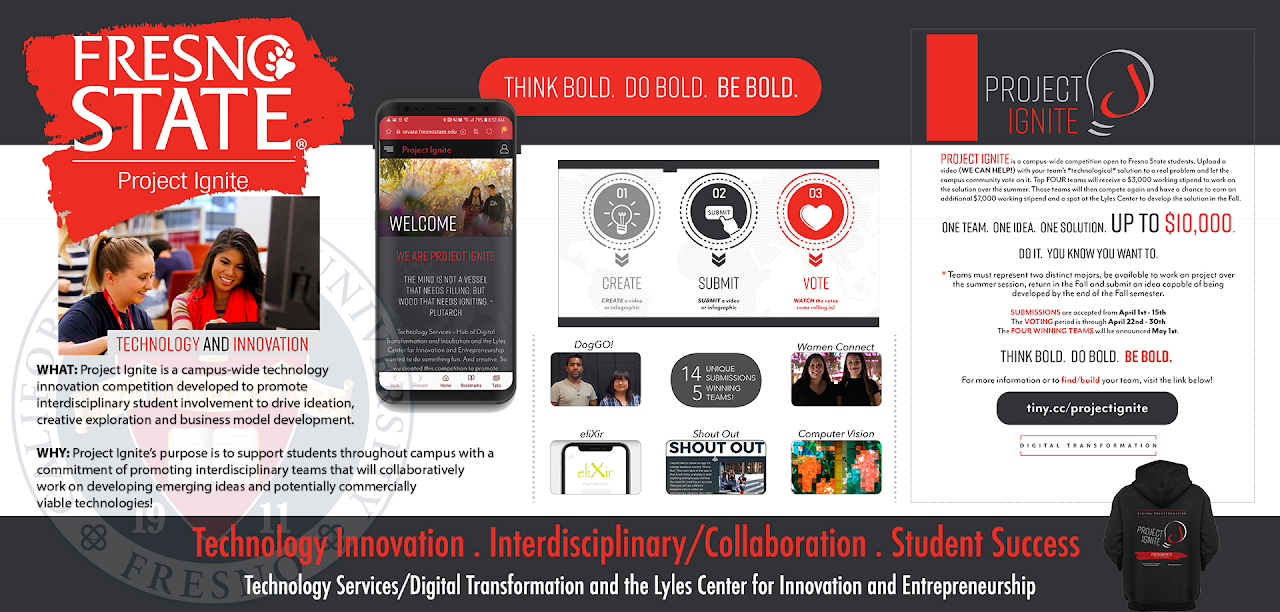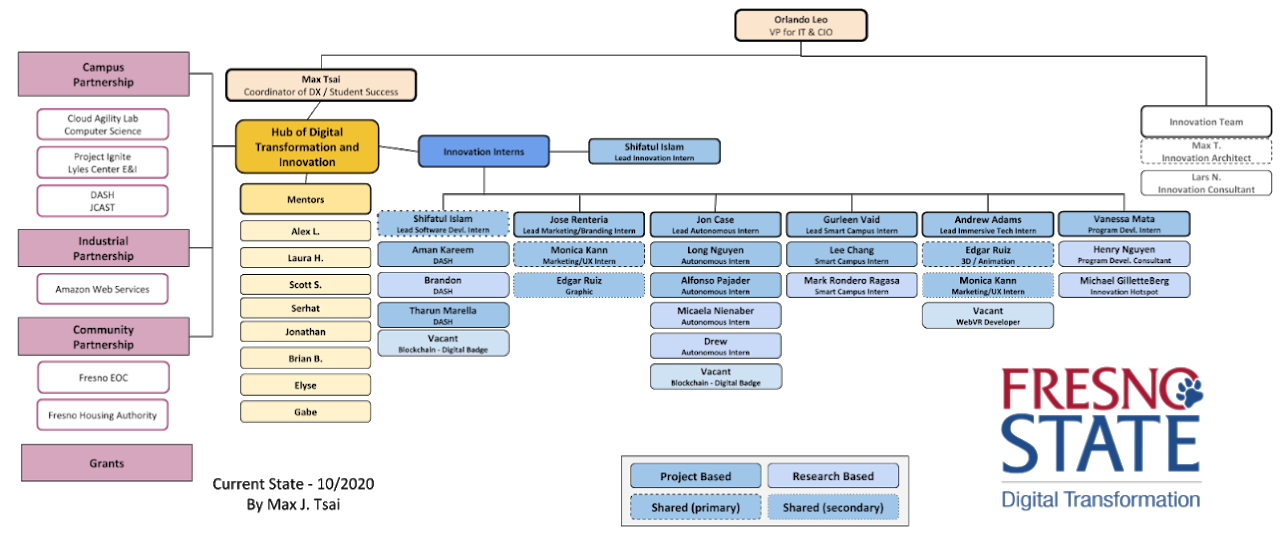 RESEARCH AND PROJECT INTERNS
( Spring 2021 )
Shifatul Islam, Computer Science
Program Development Intern
Jaden Farias, Ag. Business
Aman Kareem, Computer Engineering

Evana Holevas, Computer Science

Narendra Mannan. Computer Science

Tharun Marella, Computer Science
UX/UI Graphic Design Interns
Katherine Lathos, Graphic Design

Grant Woods, Graphic Design
Smart Campus / Autonomous
Jon Case, Computer Engineering

Gurleen Vaid, Computer Science

Long Nguyen, Computer Engineering
Andrew Adams. Computer Science

Nhu-Lan Dizon, 3D/Rich Media

Clark Froelich, 3D/Rich Media
Orlando Leon, VP of IT & CIO

Max Tsai, DX and Innovation Office / Coordinator of Technology Experience and Internships
Emil Milevoj, Project Ignite

Alam Hasson / Jaime Arvizu, Hubs/XR

Phong Yang / 360 Virtual Campus
Elyse Pancotti, Partnership and Marketing

Valerie Kessler, PR and Outreach

Vivian Lo, Project Management/Business Analysis

Jonathan Castro, Communication/Branding

Juan Solis, Events and Administration

Brian Beamer, Information Technology
Innovation Day / Bootcamp
"I am still reeling from the awesome field trip. I mean, we hadn't even left the Innovation Lab before the kids were asking if we could come back!" — Bobby Coulter, Fresno Housing Authority